These days, basically every company that makes hemp-based products offers their own version of CBD oil.  That being said, with such a crowded market, how can we be sure that we're getting top-quality oil that's going to satisfy our needs?  Well, one simple way is to smell it.   What Might the Smell of Your CBD Oil Indicate? How your CBD oil smells can offer a lot of insight into the quality, purity, potency and even the chemical composition of the product. Every CBD oil is unique in its own way when it comes to the scent that it gives off,...
---
Since our launch, we have had many customers ask us whether or not they can take cannabidiol (CBD) for digestive relief. The good news is that as CBD has been on the market for a number of years now, we have access to a multitude of clinical studies that have examined the ways in which it can be a useful catalyst for optimized digestive health.  If you're going to utilize this compound specifically for digestive purposes, then it's important to know how to take it for this reason, and which CBD-based products are more capable of providing relief than others....
---
There is something about pesto that makes us never want to stop eating it.  With its aromatic, nutty, cheesy, and tangy taste, it's so satisfying that you'll find yourself swooning after each bite.  And of course, the CBD in the pesto recipe adds a little something special to the meal. Ingredients:  1lb rotini Salt 2 cups fresh basil leaves 1/2 cup walnuts 1/3 cup grated parmesan 3 cloves of garlic, peeled and crushed Juice of 2 lemons 1 cup extra virgin olive oil 2 droppers of Full Spectrum CBD Oil (Unflavored) Preparations:  Bring a large pot of water to a...
---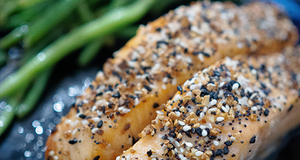 If you're looking for a dinner that will impress, while still requiring minimal effort, you have found it.  Poached salmon with green beans is a French classic that will win over anyone you serve it to. Ingredients:  4 salmon filets Salt 1 1/2 lb green beans, both ends sliced off 3 tbsp olive oil 3 garlic cloves, thinly sliced 1/2 cup lemon juice The zest of 3 lemons 2 droppers of Full Spectrum CBD Oil (Focus Citrus) Preparations:  Fill a pot with water. Add ½ cup of salt.   While the water is cold, place the salmon filets at the bottom.  ...
---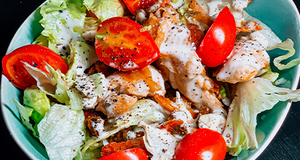 Chicken, bacon, lettuce, and tomato – what's not to love?  This chicken BLT salad can be pulled together in no time, and the compounds in hemp really add something special to the sweet and tangy honey mustard dressing. Ingredients:  8 strips of bacon, sliced into ¾ inch slices 1 lb boneless, skinless chicken breasts Salt and pepper 1 head romaine lettuce, sliced into ½ inch strips 2 cups grape tomatoes, halved 1/2 cup honey 1/2 cup Dijon mustard 1/2 cup olive oil 2 droppers of Full Spectrum CBD Oil (Unflavored) Preparations:  Cook the bacon in a large sauté pan on...